Yesterday arrived – Two rolls of wrapping paper and one box of scented candles. Yay for M&S 3 for 2, christmas tree was included in it but that arrived a day earlier for some reason. Also, This is a really nice deal for buying Christmas presents or something. They have some fairly cheap stuff, charms and whatnot. Putting in glam10 at the checkout also gets you another 10% off.
Didn't do much yesterday that I can remember. I went to bed about 4am, was woken up at 6am because Sophie had gone to sleep on mums bed and the big dog Bella was attacking her. Suppose we won't try that again until she's older. Oh yeah, I played DwarfFortress for a bit. It's gonna be awesome when he finally puts the big update out, wonder if he'll manage it before Christmas.
The hamsters are getting fat, I can see one of them sitting in the wheel now. Can you put a hamster on a diet? Is there really any need? Maybe they naturally go that shape when they grow bigger. *takes a picture of it, uploads it, looks around at hamster to see if he's moved yet* *hamster is happily washing his balls* -_-;; At least he keeps himself clean?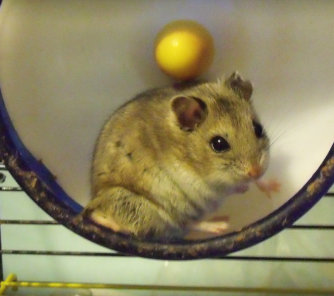 Not much has happened today, I didn't get up till well late, I had dinner, here I am. I think I'll tidy my bedroom, and then do a bit more of the guide Tera's trying to make me follow. I just get bored easily… Great, I can now make a thing that insults you if you have a short name, where's the use in that. And my one wasn't half as pretty as Teras. xD
I just ordered the Nail Gaimen – American Gods and Terry Pratchett – Nation off Amazon, anyway, so that gives me something new to read.
List of dates and obligations
November 30th – Take Sophie to vet for her final shots, pick up wormer for all the other animals. Ask about the fact Sophie is so much smaller and her gums are so much paler than Emmys.
Try and get to the German Market in Manchester some time.
December 12th & 13th – Interesting looking thing happening in St.Helens, some Victorian event with carols and guided tours and a craft market. Brother would enjoy going to that.
Christmas! (Shop for: Grandma, Granddad, Tera, Chibi (whut dus you want?), Mum, Terence, Jenny (Who have I forgotten?))
Jan.. Something… Tera's birthday, don't let me forget again this year. :p (When am I gonna come stalk you again?)
Do christmas shopping
Tidy my room
Give my little alarm a proper gui maybe, maybe not. It works ok as it is.
Play more of Dragon Age
Finish fixing the layout for this blog
Play more Dwarf Fortress <3