My migraine is mostly gone. Had about three days of mild but constant headaches. Hopefully I won't see another for another year, now!
Mum decided to name the new puppy Sophie. I managed to get a few pictures of her last night, but I'll have to try again some time for some better ones. Getting pictures of Emmy is next to impossible, Sophie is still rather calm and sedate, but Emmy is mad as a hatter, she never stops moving.
*stops to take some tissue out of Emmys mouth*
We took Emmy for her for her first walk yesterday, she enjoyed that. The other two dogs wandered on ahead and did the sedate middle-age lady waddle they do, while Emmy stayed on the lead, but she didn't try and pull at it too much, and the few times we did drop the lead to see what she did, she never went further than the other dogs, and always came back when called. She's completely nuts and totally ready to take on the world, one dog at a time, but I also think she'll be ok.
*stops to take a bit of plastic out of Emmys mouth, sits back down, then has to get back up again because she's somehow retrieved it already*
Probably gonna try and take her to the park again tomorrow, and I'll take my camera this time. Now her fur's groing, she's starting to look like a wookie. I'll try and find an image that illustrates that. Sophie is going back to the vets on Monday for a heart check and her first set of jabs.
*watches Emmy attempt to eat a bit of tinfoil, flinching every time it connects the nerves in her teeth, either that or it's just sharp*
Now I know what it feels like to be a parent…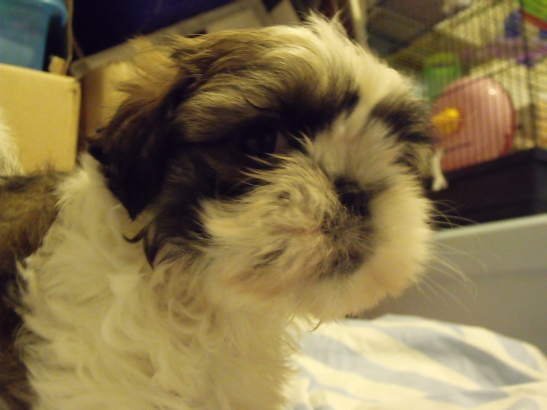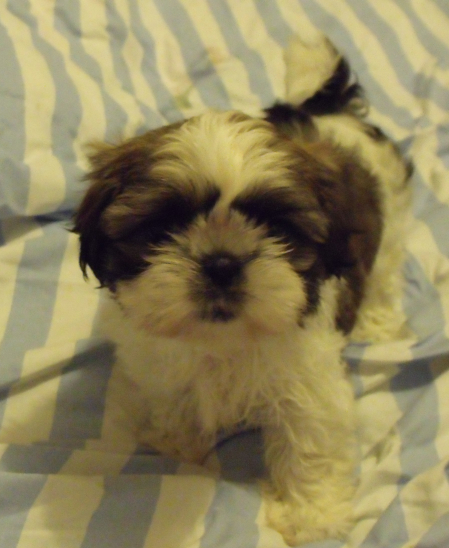 Tiny dog is tiny.