I have like… 4 people reading this, you're the only one who comments here. :p But it's good motivation for me to keep posting, I'm not very good at keeping up blogs. If I miss a week of posting I tend to forget about it and never go back.
Not sure about HTML in comments, I'll look around for it. (- on testing, basic html tags work fine for me. It probably eats random brackets or links or something) I did enable avatars but I don't think this theme shows them, oh well. There's probably some nice easy way of making them show up but I'm not really bothered.
Took Sophie to the vet yesterday, mum wasn't feeling well enough to go with me, but it was ok. Taking her back in 4 weeks (Monday the 30th, 2pm *notes*) for her second lot of jabs, and a week after that she can go on walks! She's asleep on the floor next to me at the moment, using Emmy as a pillow. I'm glad they get along, maybe they won't fight as much as Bella and Lucy do. Didn't get a chance to take them for a walk today, as it rained steadily all day and it was dark by the time we got home from shopping anyway.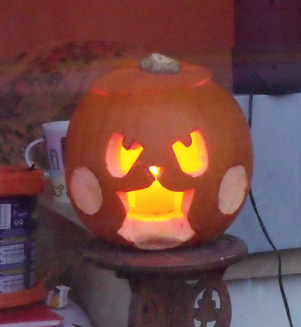 There we go! I'd never carved a pumpkin before! The cheeks should probably have been deeper, but I was getting bored by then. We bought an eating-pumpkin too and made it into soup, it's a shame they're so hard to get hold of here as it was good. Although I'm still not sure that pumpkin actually tastes of anything, and if it wasn't just everything else in the soup that made it taste good.
Walking around the shops today, there's nothing left of halloween, not even cheap sweets. Not a single pumpkin in sight anywhere either. Oh well, everything's gone christmas now. They've put a christmas tree up in Tesco already.
Gonna try for that eye test some time this week, and also gonna take the whole bag of pennies I collected from around the house and pour it into the coinstar machine I spotted today, that should be fun, I've a bag of pennies so heavy that I can't actually lift it without fear of the bags ripping, I think I'm gonna have to do a couple of trips. Been saving up for a couple of years and should be fun to see how much it goes for.