Tag Archive for 'life sucks'
Uncle John died last Tuesday, the funeral is on Monday, Asbestosis.
Nothin much to say apart from that.
Sucks. Life's a bitch and then you get cancer. At least two family members have it at the moment… Seems to be what everyone dies of eventually… But hopefully he'll be fine!
That fortress I made fell to orcs when dwarves refused to pull the lever to get the bridge to go up. Next time I won't build it outside. It doesn't seem entirely worth playing, the whole time, I'm waiting for the next release to come out.
MSPA update for today. Damn. Worth watching through even if you're not following it. I can see why he sells the music too.
*finally remembers to grab torrents of the new eps of Survivors and Being Human* I managed to miss them being on telly, kept tying to sky+ them but it wasn't playing. Should pick up the new years Doctor Who, I missed that too… I really am not good at sitting down and watching telly. xD
They're both exactly the same size, lets see which downloads first! So far Being Human is in the lead by 1.5%!
It rained today, most of the snow is gone now, can see the road and the grass in the back garden for the first time in ages. Oh well, maybe it'll snow again, maybe it won't. At least things will deliver properly now.
There's some racing game for freeplay on Steam at the moment, gonna see how that works tonight. Should be fun. I miss Onni so bad though… He woulda played it with me. He would have been prodding me to play it with him, even after he lost his arm it didn't stop him for long. He gave me so much motivation to do things, he'd prod me into playing new things or listening to something or whatever… At the moment, nothing seems worth doing, all I want to do is sleep.
I've had a headache all day, time to go find some dinner…
The latest XKCD, I want that as a poster. My migraines haven't come back, and grandma should be out of hospital by the end of the week. She might not be, though… Everything sucks…

Puppies.
Saw a thing on the news this morning about them finding water on the moon, that's quite interesting. Maybe we will have moon-bases one day after all. Anything is possible I guess.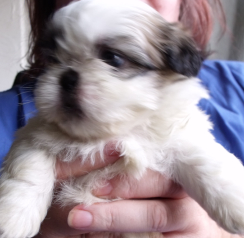 Nothing much interesting happened today, the main dog seems to be getting on better with the puppy, but she gets into moods. One moment she'll be washing her, the next, she'll be trying to eat her and make her squeak by bashing her with her paw. The other dog is still terrified of her but hopefully that'll change in time.
The pup has grown up so much in the short time we've had her, I think she's practically doubled in size and her fur has gotten a lot lighter in colour. I really hated her at first, but I suppose I'm getting used to it now, she arrived at a really bad time on a really bad day, but you can't blame her for that, blame the stupid woman who sold her to us, and wanted her money NOW instead of in three weeks time.
Meeting Tera was awesome, and Finland was so, so pretty, but I hate myself for everything that happened and for not taking a bigger role, for not getting over there sooner. I try and live by the motto "no regrets,"  but sometimes it's hard. My emotions are all over the place at the moment. That's why I'm updating this, maybe I can make some sense of everything if I type it all out here.
Onni, if you're reading this, somehow, somewhere.
I miss you.